Weekend Recap
On Saturday we headed down to Philly to catch
Tony
's last basketball game of the season. Naturally we lagged so T only got to play for the second half but you know that's the most important part of the game anyway. Afterwards, we wandered around the Franklin Mills mall, which has some good stores but is pretty fricken ghetto. Although T did get me a really nice hat at Guess. Later on in the evening we shot pool then headed over to Joeben and Mai's and played some Hold 'Em. I was short stacked pretty fast but soon upped my winnings... to no avail.
Abel
was the chip leader for most of the night and he correctly used it to his advantage (bully). At least this time I got to stay clothed. If it were 1995, me and everyone else would have their clothes in a pile on the floor and Abel would be sitting there in a jacket, jeans and both his shoes on.
On Sunday, I walked in the March of Dimes WalkAmerica at Liberty State Park. Met my goal of raising $1500 for the fight to help premature babies. Yay me, but more importantly yay for all my friends (Geo, Mike, Tony, Abel, Kwame, Paul, Coleen, Ant, Nicky, Eric, Michi, Rob, Lety, Rachel, Rosette, Suzanne, Sonya, Noreleen, George, Lanie, Leen, Armina, Kathleen, Becky, John, Alyssa, Arne and Aileen), family and all other amazing people who sponsored me. YOU GUYS TOTALLY ROCK.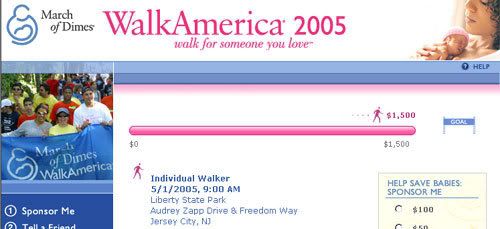 Some notes:
-Geo had to stay home because the girls were not going to get up that early, so I dragged Mike along with me, who proceeded to help himself to every free thing in the area, short of the rocks and dirt we walked on. At one point he had a carton of orange juice, some weird drink made from oats, Propel and a donut in his hands. "Gee Mike, you really are Jewish." Which I can't really talk because Filipinos are as bad as Jewish people when it comes to free items, but I was just restraining myself because I knew if I followed suit I'd be puking along the walk route.
-The aforementioned oat drink was very bizarre. I couldn't decide if I liked it or hated it. The guy serving it said it was like egg nog, but it really was more like super watery oatmeal with some cinnamon thrown in, flavored with sperm.
-And of course three minutes after I drank it my stomach started going "So where are the restrooms in this joint?"
-But I am a snob so I just held it, hoping I could avoid having to use the port-a-pottys altogether. Those things are just plain disgusting. I'd rather pop-a-squat on the sidewalk. Mike used one though. After he came out I yelled out "Hey Mike, did you wash your hands??" But of course those nasty things don't have sinks. He said that he hadn't touched anything, to which I replied what about your penis, to which he replied that it was clean because he showered that morning. All very loudly.
-Mike and I started early and walked super ultra fast, so we wouldn't have to walk in the herd. Before we left, a woman in one of those motorized wheelchairs came and Mike looked at her and said "Hey.... that doesn't count. She's cheating."
-It's amusing when appearances are deceiving. We passed a group of thug life kids and I thought they'd be talking about "smokin' a L" or beatin' down on someone but instead one of them was saying (and I quote) "I dislike walking through mud. It's all squishy and your foot sinks. Eew."
-After the walk I felt like crap because it was still raining and my feet hurt, but then I ate one of the hot dogs they were giving out and it was like Popeye eating a can of spinach. Apparently nothing rejuvenates me like something that contains ground up questionable parts from like eight different unnamed animals. With ketchup and mustard.
Mike and I decided we deserved some food after being such morally responsible human beings, so we headed over to Hoboken for some brunch at The Mile Square. Except that Washington Ave was closed due to the annual Hoboken Arts and Music Festival. I was thrilled because you know what I do at these things right? You're damn right. I eat. So we stuffed ourselves silly with hot Italian sausage sandwiches (with grilled green peppers and onions), sour pickles and this amazing crepe thing that was stuffed full of sliced bananas, strawberries, whipped cream and melted Nutella. Which I can eat in good conscience now that they dropped Kobe Bryant as their spokesperson. Now that Kobe isn't in the news anymore I can go back to hating on him for being such a self-important, show-boating little punk. Get off my Nutella jar bitch!
After the fair, we picked up Tony and hit up Willowbrook to find Mike some sneakers. The guy walked the entire 6 miles (plus all the walking we did in Hoboken) in these heavy black boots. But the search was fruitless because Mike has differently-sized feet. Just kidding. His feet ARE different sizes but the reason the search was fruitless is because The Finish Line couldn't find the left shoe of the pair he wanted. I guess someone else had differently-sized feet too but they were slick and bought one of each.