Happy Anniversary To Us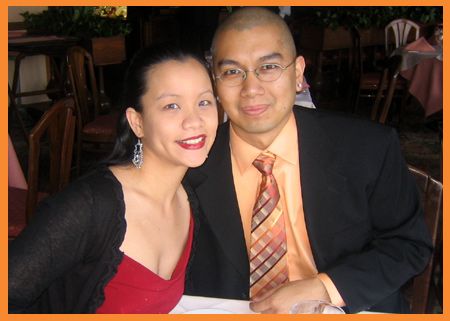 The reason I postponed the show to tonight is because yesterday was me and Geo's anniversary. Three years of official matrimony and counting. Every year Geo picks out some nice restaurant, we get gussied up and have ourselves some romance. Our other romantic moments during the year come in the form of a special smile, holding hands while watching our daughters run around and play, a kiss after a particularly rousing game of
Guitar Hero
. This is the one night we actually shell out the duckets for it.
Last night we went to the
Highlawn Pavilion
, on the peak of the Eagle Rock Reservation in West Orange. The restaurant is on the edge of the mountain, overlooking New Jersey and the entire Manhattan skyline. On a side note, during WWI Thomas Edison worked in the building, for various classified Navy projects.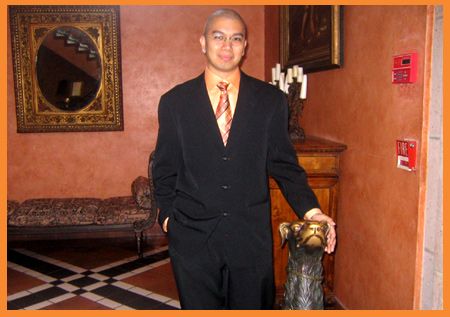 The first thing we noticed when we walked in is that
Geo had dressed appropriately. Colorwise, he matched the
northern Tuscan villa decor perfectly.
The dining room was gorgeous and the service was wonderful. As an appetizer we ordered the "Samples of The Sea" which was an assortment of Maine lobster, crab claws, oysters, shrimp and colossal crabmeat served with ginger cocktail sauce and a balsamic vinaigrette for dipping. We got a bottle of their Tuscan Pinot Grigo, which tasted wonderful, especially with the crab and lobster. For our entrees, Geo had the shrimp ravioli with shaved fennel and two caviars, while I went with the chicken stuffed with vegetable mousse, baby spinach and garlic mashed potatoes with black truffle sauce.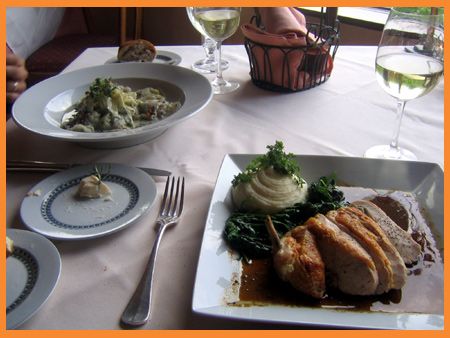 The shrimp ravioli was really heavy and it was covered
with little Nemo eggs. Naturally we had to mention it each
and every time we took a bite. "Just keep swimming."

I normally prefer red wine but recently I'm starting to
acquire a taste for white wine. I think it has to do with the
lobster that seems to come with it. Also, my dress cost 14 bucks.
For dessert Geo had the Amerena cherry chocolate mousse dome with mocha sauce, and I had the... yes. Trilogy of Creme Brulee in coffee, orange and vanilla flavors. The orange one was tart and took a little getting used to, the coffee one was strong and the vanilla one, I would cup my hands together and eat by the barrel.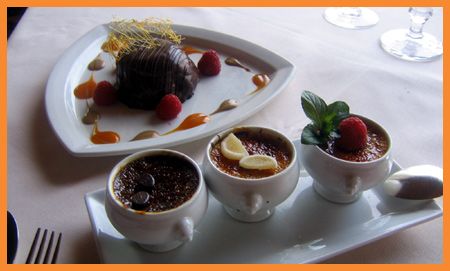 Most people don't realize that the answer to the often-debated
question "Is there a God" is "Yes, look at dessert."
During the meal, Geo and I decided to extend the night and go see a movie, something we both love doing together but rarely get to. We asked the maitre d' if there was a theatre nearby and he responded "You're going to see a movie on your anniversary?" And then in my head I responded "Do you WANT to get knocked out at work?" But you know, somehow I think polite society would frown upon brawling at four-star restaurants. Sigh. But we did top off the night with some
Poseidon
. All in all, a wonderful night spent with the man I love most in the world.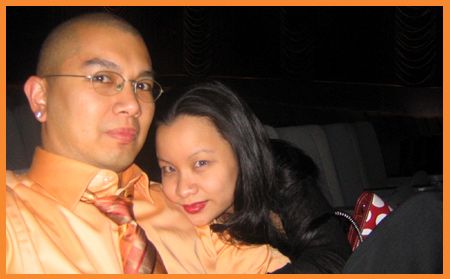 Geo took this in the theatre. We're such dorks.
That's why we get along so well.