Well Drinks and Getting Screamed At In McDonald's
I've found my cause. Screw the whales and global warming, the FDA needs to ban the substances known as "well drinks." These substances, under the guise of real alcoholic drinks, are acquainting people throughout the land with their toilet bowls. Intimately. A little too intimately. My toilet is now sending me flowers and writing me bad poetry. In iambic pentameter no less, how ambitious is that. For those not in the know, well drinks are the generic versions of top shelf liquor. Designer Imposters for the cheap bar. Which you know, generic imitations may be well and dandy for pharmaceuticals but for liquor, perfume and handbags it's always best to buy the real thing.
Unless, you're an idiot who can't seem to let go of the fact that there is a two drink minimum at the comedy club you're at, so the drinks will go to waste. And, unless you're an idiot who doesn't realize until the next day that you could have just given them away to one of the 7 other people at the club with you. And, unless you're an idiot who completely forgets that the first and only time you consumed well liquor, you were sick for longer than it takes some people to run the Boston Marathon. In other words, unless you're me.
At midnight on Saturday (Sunday), me, Mike J and our friends from
Chaos Radio
went to go see the newest Mango Radio DJ
Maria Shehata
do stand-up at the Improv Cafe. The comedians were funny as hell, but then again I'm a big fan of stand-up comedy. Afterwards we hit up St. Mark's Bar for a few nightcaps (SoCo and lime) and some arm wrestling. By the way, is it normal to still be fiending for a smoke even though I quit four months ago? I really am stubborn.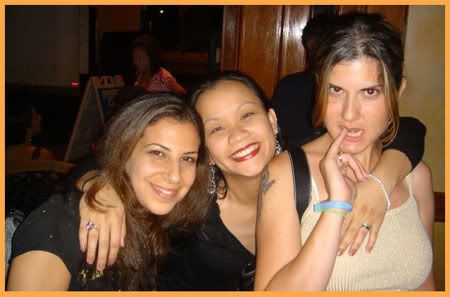 Three of the Mango Radio lady DJs
(we need to superimpose Utopia and Eliza)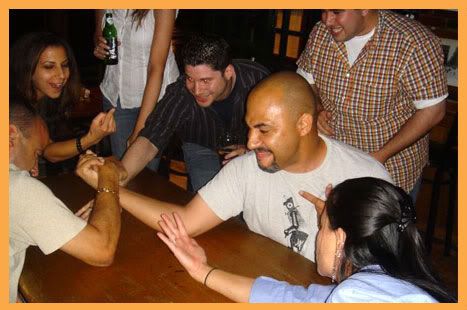 The Alex versus Alix arm wrestling match was almost
the drunken highlight of the night, until McDonald's.
After the bar, Mike and I hit up McDonald's. I ordered a Big Mac value meal, then turned to Mike and commented I really should have gotten a salad but it's not like I eat Mickey D's much anymore anyway. (Yes folks, I have limited my fast food intake and it sucks.) Some black chick who was taller than Geo and bigger than any of my guy friends overheard me and went ballistic. She started bitching "What the hell are you doing in here anyway if you're on a diet?" So I cheerfully announced to everyone around "Because I LIKE MEAT!" Which her boyfriend found so hilarious he had to prop himself up on the counter to stay up. Which infuriated his girlfriend so much she started bitching about me all over again, "Why does that skinny bitch care what she eats anyway." (Because I actually do have to exert some effort to fit into my clothes. I'm not 21 anymore.)
She takes a bunch of steps back, yelling "I'm fat, I know it, so what, I'm fat, that's why I'm in McDonald's, I don't care. I don't care!!" And then proceeds to fall right onto her ass with the entire restaurant watching. Her boyfriend goes to help her up and now she's yelling "I fell, so what, I know it. I don't care, I fell, so what!" And Mike of course has to call out "Because you're at McDonald's?" Her boyfriend was trying to pull her up, all the while apologizing to us and everyone else. Hysterical. Incidentally, for those of you thinking my memory is pretty good for someone who was drunk, I just remember certain things happening. Mike is the one who fills in the specific details the next day and then I remember them. Like how I kicked some homeless guy's bag out of my path on the way to the car. And how when the screaming woman fell, I just watched her disinterestedly then turned around and started helping myself to some condiments. Apparently I am a sociopath when inebriated to a certain level. In my defense, it just doesn't occur to me that those things are wrong. I just think "What the fuck is this thing in my way, let me kick it to the side." And "Oh, she's screaming at me and she fell. I need some ketchup for my fries."
P.S. - Thanks
G
for the belated birthday gift! She gave us a portable DVD player for our car with two screens. One for each of the girls (super spoiled) or one for them and one for me (super super spoiled.)