Apple Picking
A couple of Sundays ago, I entered the wonderful world of apple picking. Being from California, it was just one of those random activities that I had heard about but never participated in. Apparently it's like a rite of passage. Me, Geo and the girls met up with Paul, Jamie and their boys at the Tewksbury General store in Tewsbury, New Jersey. Which I'm determined to live in by the way. After living in big cities all my life, now I just want to find some quaint town and own a damn horse. Is that too much to ask? Oh yeah, apple picking.
So after lunch we walked down the road to Melnick's Farm and jumped onto the hayride up to the orchard. As the truck rattled up the hill, I turned to Paul and said "I was just thinking that migrant farm workers must look at these places and think why the hell would we want to do their jobs for free." He replied, "I was just thinking that the Nazis used to transport the Jews to concentration camps in trucks just like these." We're a boatload of fun on family outings aren't we? Everyone had an awesome time though. Geo and I went home with a crapload of apples because the girls went crazy. They were like apple picking machines. Could be a leftover Filpino migrant farm worker gene. Anyway, I kept a close eye in case someone thought we were escaped migrant farm workers and shuttled us off to the real fields.
And now I can beat my chest and yell "I HAVE PICKED APPLES!"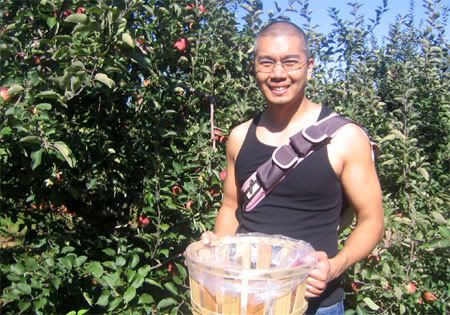 Geo's impersonation of a field hand, complete with pink diaper sling bag.
No farm worker is ever seen out in the orchard without one.