G'Day Mate

Outside the Sydney Opera House
You're probably wondering why I didn't tell you guys. Well, the whole trip was a surprise to our friends in Australia, some of whom read this blog. And I did in fact tell you guys
a few weeks ago
that I drunkenly agreed to go to Australia. What I didn't mention was that the next morning when I told Geo that the Drunken Plan Maker had struck again (I always make plans while inebriated that I have no intention of keeping) he replied "Dude, you should go."
So... one month, two crazy days at the passport office and 23 hours worth of flying later...

Hanging out by the Sydney Harbour Bridge



Jill, Maz, me and Rhands at Darling Harbour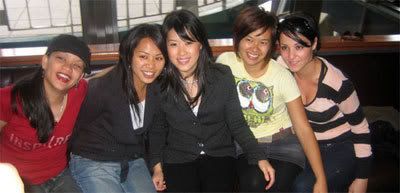 Me, Jill, Jane, Maz and Jacinda at the Watershed in Darling Harbour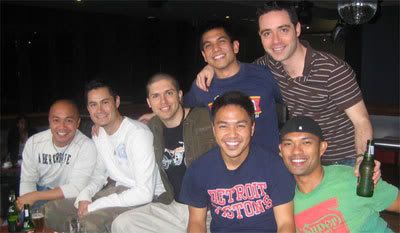 Ray, Matt, Iven, Stevie, Rhands, Paul and Ed right before we all did this...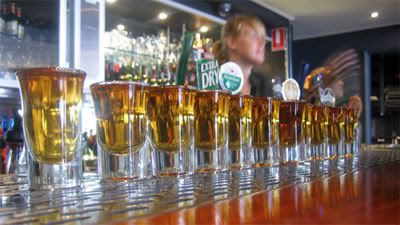 Parasailing at Manly Beach (holy crap it's fun as hell)



Hanging out at some joint where you get a steak, mashed potatoes and a glass of wine for 5 freaking bucks.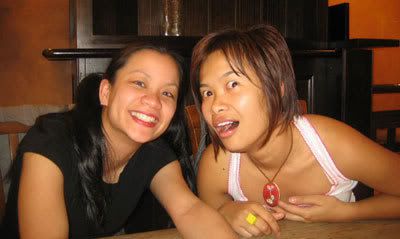 As you can imagine I have a lot to blog but limited time.
Some quick notes:
1. Qantas rocks. The stewards on the New York-Los Angeles leg of the trip were amazing. They even gave me a bottle of champagne on the DL to celebrate my trip.
2. Sydney is a beautiful city. You look at pictures but it doesn't compare to the reality. The people are friendly, the atmosphere is laid-back and the architecture is gorgeous.
3. I have almost been hit by a car about 3 times. It's not rocket science, they just drive on the other side of the road. And yet my brain is having difficulty adjusting. When I cross the street now I look left, right, up, down and behind me just to make sure.
4. Parasailing seems like it would be crazy but it's actually very peaceful and relaxing, except when the boat slows down and they deliberately dunk you in the water.
5. We went into the water at Manly and everyone else had wet suits on but I thought the water was pretty warm. Then again, after the Polar Plunge everything kinda seems warm.
6.
I love Maz
. It was awesome surprising everyone, awesome and surreal. The looks on their faces were priceless. I have Maz's bewildered expression caught on camera "What's going on... I'm looking at Riss but I'm not on her blog." (Thanks to Ray, Matt, Rhandy, Jill and Maz for the room and board!)
Don't worry, I'll definitely update as soon as I can. This has just been the first couple of days! I've been taking lots of pics and video (thanks for the 2G memory card T!) And yes, I've apparently conquered the fear of flying that has kept me vacationless for the last 7 years. My dad thinks I'm nuts, he told me to get over it by taking a short flight somewhere. I figured fuck that, if I'm going to do this then I'm all in!! Onya!!
Wish you were here, especially a few of you in Jersey City!!