Geo's Friday Night "Assfest"
Boy do I have a treat for you guys. My record is
3 strip joints in one night
, but Geo went out last Friday night with his co-worker and blew mine out of the water. The next morning I asked him how it went and here is the answer, paraphrased but pretty much in his own words:
"We went to Whiskey Cafe but since it was 11 when we got there, everyone inside was already trashed. There were people brawling even. So we had a drink and then went to Houlie's. It was kind of boring there so Rob said we should go to AJ's, that strip club in Secaucus because 'the girls there are so beautiful' he said. But when we got there it was *Borat voice* NOT SO MUCH. So we hung out there for a bit and then he said we should go to this place in Newark that all the customer reps rave about. They said it's dollar lap dances so 'you just feed them dollars during the dance so it's a 5-dollar lap dance.'
We went there and they had a 3-dollar door charge. When we got inside, all the strippers were really fat and scary. I went to the bathroom to pee and when I came back, Rob was sitting there with a beer already. I was like 'What the fuck, you got caught?' And then the bartender asked if I wanted a drink and I said 'Oh hell no, I'll be waiting outside.' So Rob came out after he finished his drink, but he got his 3 dollar door charge back first. I didn't even care, I just wanted to get out of there.
So then we decided to go to some other place but we couldn't find it. So we stopped in a parking lot and asked some guys where the nearest strip joint was and they told us where to go. We got into the place and it was 4 dollar Coronas so I we got some beers and then Rob went to the bathroom. He came out and said 'I'm not gay but I met some guy in the bathroom who knows somewhere that is open until 3, because this place is closing.' So we head to some place in Paterson and when we get there, there are a shitload of thugs and bums outside begging for dollars. Some bum walks up to me and says 'Can I get a dollar for a sandwich?' And I said 'Tell me why you REALLY want this dollar." And he said 'To get a beer' so I said okay and gave him the dollar.
We went inside the place and me and the two other guys Rob met had to go to the bathroom. The guys were saying in line that 'the girls will let you do whatever you want until they say no, it's 7 bucks a dance.' When we got to the bathroom it was just a hole and you couldn't even flush. I walked back towards Rob and he has this thing bent over in front of him (I think she was about 40 years old) and he has a beer in his hand again. While I peed he had a beer and a girl already.
Rob said there's another place nearby, in walking distance if we didn't like that one where the strippers were ugly. So we headed to the other one and Rob is still carrying his beer. He says 'It's Paterson, who cares.' When we get to the new place there are about 15 Spanish guys partying outside the strip club, but when we walked inside there were 5 ugly strippers and 2 customers. So we left after saying bye to the 15 guys outside.
We head back to the 'Pee In The Hole Place' and on the way back meet up with the two Spanish guys again. While we're telling them the other place sucked, some huge black guy comes up named Keke and hands us a 'party flier.'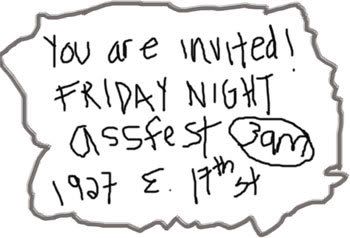 Geo actually handed me the "flier" at this point,
which was a scrap of paper about an inch long but I
can't find it. So I re-created it in MS Paint.
Rob says we're going to a couple more strip joints next door. The first one is really really narrow, and on the stage there's a stripper who looked like a man with dreadlocks and big boobs. So, no. We left. The next one was in a basement and when we walked in there was a girl on a pole wearing green. I was looking at her and thinking 'Is that stripper pregnant' when Rob leaned over and said 'Is that stripper pregnant?'
I said that's it, this night is finished. Outside of the one with all the Spanish guys, Rob turned to me and said 'What the fuck are we doing?' But by that point we were just trying to see how much worse the strip joints could get."
To make the story even funnier, Rob and Geo had just come from a wake so they were pretty dressed up for their Friday Night Assfest.