2006 U.S. Open
On Monday Geo and I busted out these:

And headed on over to Queens to join the masses converging on the U.S. Tennis Center for Andre Agassi's last U.S. Open. The
last time Geo and I went
was in 2002, before our kiddos were born. That day we apparently smoked some imaginary crack because we spent the entire day watching tennis matches, then headed to Jones Beach at night to catch Aerosmith live.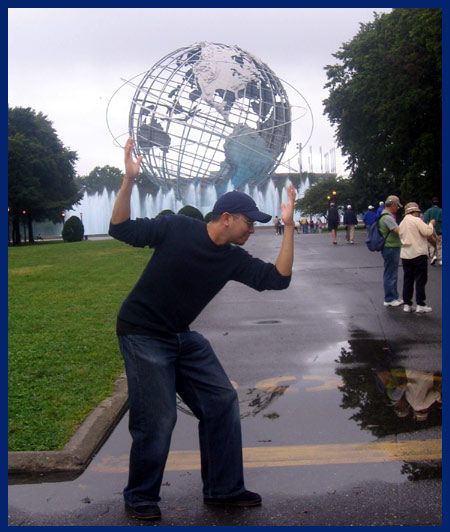 You know this picture gets taken like 46304 times a day.
When we got to the tennis center, we were scared out of our minds by this really long line that wrapped around the entrance. Turns out it was the security line though, so it moved pretty fast. Tennis fans don't carry too many suspicious-looking objects, except maybe the sunscreen and Evian. We went to go watch Tommy Robredo play, but the previous match was still on. Since we didn't recognize either of the women playing, Geo and I placed bets on the outcome. I joked that I was rooting for the Asian chick because I'm racist, but really I rooted for her because she brought a grocery bag filled with food onto the court. She's like my twin. She also whooped her opponent's ass, which won me a free homemade dinner of my choice from Geo (I'm thinking steamed crab legs and garlic mashed potatoes.)
Tommy Robredo played next, versus some guy who looked as if he'd been recently shipwrecked, as in "I HAVE MADE FIRE!" Not only wasn't he the cleanest-looking of people, he also hocked a huge lugie onto the court, right at the feet of two visibly disgusted ballboys. I am not racist when I pick who I want to win the match, by the way. I am a cleanist. I vote for whoever looks like they bathe regularly. Extra enthusiasm for people who brush their hair and maybe moisturize. Robredo's game started out well though, the first hour was basically a slugfest from the baseline. It's always fun to watch two players with awesome groundstrokes, the rallies are extra long.
One thing that irked me though concerned the guy sitting next to me. He looked like Niles (from the show
Frasier
) and picked his nose regularly. It didn't bother me that he was picking his nose, just that I couldn't stop watching him do it. I missed quite a few good points in the match while watching his finger go from his left nostril, to the right one, to his jeans and back up. You have to be careful at sporting events, there are cameras everywhere. Leave the wedgie in your crack until you can get to the bathroom, no matter how uncomfortable it is. During All-Star Weekend once, one of my friends told me that the MSG television guys thought I was attractive so they followed me around with their cameras (unbeknownst to me). He said they had like 20 minutes of footage. Hopefully in that 20 minutes I didn't do anything like scratch my ass or blow my nose, then study the contents of the tissue.
We left the match early and headed into Arthur Ashe stadium, to catch the end of Andy Roddick's game. Our seats were in the nosebleeds, we were closer to the jumbotron with Andy Roddick's picture on it than we were to Andy Roddick. But it's still worth it just to feel the energy of the place for a bit.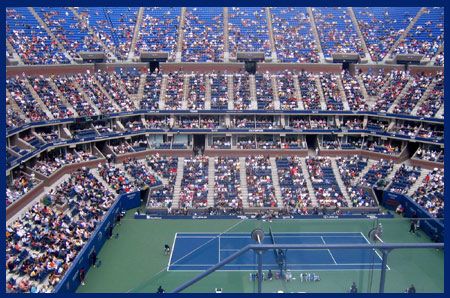 At one point an airplane flew over the stadium and it
seemed a lot closer to us than the tennis court.
After Roddick was done spanking his opponent, we wandered by the practice courts to see who was there. I was hoping to see Martina Hingis or Rafael Nadal, but no such luck. We did however get to see Martina Navratilova, who can still kick ass on the tennis court.
Since we were already there, we sat down at the court next to her to watch the match in progress. It was Justin Gimelstob versus some guy. His dad was sitting right next to us and kept up a running commentary during the game. "Come on Jay. You can do this Jay. Don't let it go. Right here. Right here." To be honest, it sounded like really bad gay pron. But it was funny as hell. And in all honesty, I do it too when my favorite players are on and I don't even have the excuse of being their dad.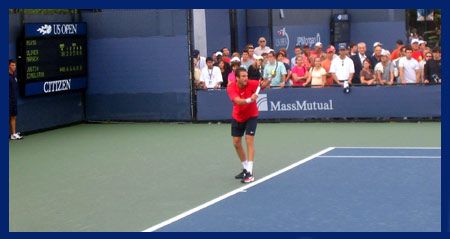 "Yeah Jay. Right here." On a funny note,
some old man thought I was a player.
Afterwards, we jumped courts and watched someone named Marco Chiudinelli play Fernando Vicente, the 89th player in the world. Battle of the qualifiers I guess. Vicente is from Spain and every time anyone would cheer for the other player, his entourage would turn around and glare and say nasty words in Spanish. This of course, only encouraged me to cheer loudly whenever possible. It was also helped by the fact that Vicente must be like 30 and his girlfriend was about 16. After he lost I shook my head and said "You see? Pedophiles never prosper. Except R Kelly. And Michael Jackson. But just them. Not you." Geo still thought the girl might be his little sister, but I hope not since they started tonguing it up after the match.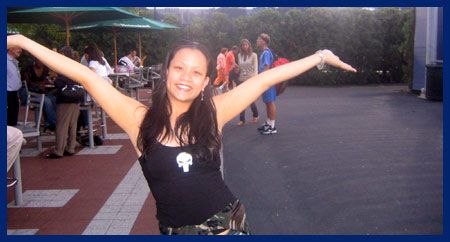 I posed for this picture so everyone could see
the lovebird and his love egg in the background.
At one point though, I was a bit worried. I was reaching into my bag, which has metal chain straps and one of them fell onto the metal bleacher. The resounding noise caused my Swiss player to fuck up his first serve. Everyone turned to glare at me as I studiously avoided meeting the player's eyes. I had momentary nightmares that he would get broken that game, which would lean to a downward spiral that caused him to lose the next two sets. Luckily that didn't happen. On a side note, it wasn't as bad as the time I got
shushed by Roger Federer
by association.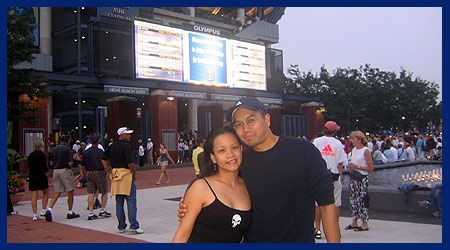 At long last, it was time for what the entire U.S. Open grounds had been waiting for, Andre Agassi's potentially last match ever at Arthur Ashe. We weren't able to get tickets so we sat with the hundreds of people watching on the big screens outside the stadium. Agassi was losing and so I kept changing seats, trying to find the one that would help him win.
YES, I'm one of those fans. We already knew this.
Someone gave me a ticket to go in (after hundreds of people left without even glancing at us) but we only had one and I wasn't about to leave Geo. Plus I was obsessed with finding the perfect seat to help Agassi win.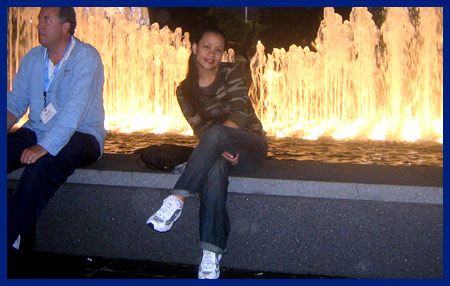 So not the perfect seat.
Finally, after he was down in the third set I told Geo if it gets to 3-0 then we have to leave because we are "malas"-ing him. Malas means "bad luck" in Tagalog. So at 3-0, I rushed us out of the tennis center, despite wanting very badly to actually be in the stadium during what looked to be Agassi's last U.S. Open match. But I still had hope that if I could find the perfect seat somewhere that he would win. YES, I KNOW I'M A COMPLETE IDIOT. It was 4-0 when we pulled out of the lot, and I turned off the radio. An hour later, as we were crossing the GW Bridge, Agassi had come back and won that set. By the time we pulled into our house, he was serving for the match. Do you see??? Do you see how spectator sports work now???? You have to find the perfect seat!!! Incidentally, never have fireworks at an event with bomb-sniffing dogs everywhere. Please.
And that was Monday, good times.