Mexico Sucks, Swastika Pasties and Football IS Everything
1. Here's my white noise contribution for the month: I've never watched a single episode of "
Dog The Bounty Hunter
" and doubt I ever will, though the premise of the show is definitely after my own heart. But it weirds me out that Mexico is going to such lengths to extradite him for trial in their country, for breaking the Mexican law against bounty hunting when he captured convicted rapist Andrew Luster. Not that I condone jumping bail or breaking laws when visiting other countries in general, but this seems like a special situation. We've been a pretty good neighbor to Mexico. Let's be completely honest, their government supports the efforts of hordes of their citizens, who come and live here illegally. Those people make money and use resources without paying a cent of income tax and then they send part of that money to their relatives in Mexico where it gets poured into the Mexican economy. The Mexican economy, not ours. Personally, I don't judge on that, I understand that desperation that will drive people that poor to better their lives. But come on here.
Dog didn't kill someone or rape a local. Shouldn't him jumping into their country for a hot second, to grab some violent offender convicted of raping three women, be something that the Mexican government should overlook? And shouldn't the Mexican government just be glad to have one less rapist hanging around their women? I mean in the grand scheme of things, Mexico shouldn't be harboring some rich boy American criminal anyway, just because he builds a fancy house and buys a few government officials a sex slave or two. 86 counts of rape. You would think they would be grateful to have this guy off Mexican soil, idiots. My point is... HEY MEXICAN GOVERNMENT, CHINGA A TU MADRE!!!
2. That
"Football is Everything" Nike commercial
is awesome. Sometimes I'm a little jealous of the Briscoe Highs of the country. No, not fictional high schools like West Beverly High or Sunnydale. American high schools that have a strong football culture. The song in the commercial is always stuck in my head too. It would probably make a good song to run on the treadmill to. You know, besides "Somebody told me that you had a boyfriend who looks like the girlfriend I had in February of last year..." I don't know why, but that song makes me run fast as hell. I think I'm trying to outrun it. Speaking of football commercials, I look forward to seeing those Southwest Airlines "It Must Be Football Season" ones every year. Like the one where the cashier says "I'm open" and the guy throws a pineapple at him. HA!
3. On her blog, Nicole featured the
poster children for white supremacy
, twin girls named Lamb and Lynx. Think Mary Kate and Ashley but with white hoods and burning crosses, instead of Jimmy Choo espadrilles and half a Mento in their stomachs. Okay sure it's bad when parents brainwash children and then use their lobotomized little bodies to further their own political agendas. But the real tragedy here is that by giving them those unfortunate names, the parents in question have given their twin girls no other career options except to ride the pole at Flashdancers, in matching swastika pasties. What kind of parents would do that to their children? There should be a law. This is a free country dammit, parents should not be allowed to determine their children's occupations at birth.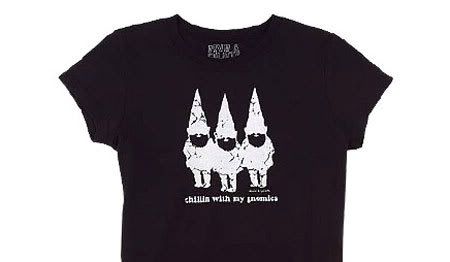 The Stripper Nazis could probably wear this shirt
to school. Hee.
4. The other night I was watching some random poker show and got reeled in because John Juanda and Daniel Negreanau were playing. Once in awhile they would show a screenshot of the top winners of whatever poker site they were pushing. The last time they did it, the top winner's screen name was "Heywouldyablowme." Heh. I'm 12.
5. I read
The Lovely Bones
by Alice Sebold last night, then afterwards tossed it behind the fish tank (my version of Joey keeping
The Shining
in the freezer.) It's about a young girl who dies violently, goes to heaven, then watches her family deal with her loss. It's described as a poignant, sad yet uplifting book but I apparently never found the uplifting part. Instead, I sobbed throughout the entire book then threw up after. YES. Now do you see why I stick to classics, historical romances, Tom Clancy and books by humor novelists? It's a health thing.