Tequila Shots For The Radio: Volume 22
The download is
available here
.
In Steve Irwin's honor, last night's musical theme was "Songs That Have Some Sort of Animal In The Title." Yeah I know that's lame but I don't have any Fosters. Or Tim-Tams. If I had any Tim-Tams I would eat one or twelve in his honor. Incidentally, I don't understand the smugness some people feel over his death. Yes he worked with dangerous animals but he did so for a cause, to teach people about them. To let people know why humans should give a shit about conserving their environment. He didn't say, jump out of a perfectly good plane for a momentary high. Or jump off a bridge while still attached to it by a springy cord, just to feel young again. Unlike most of us who just take what we need without a thought to anything but our own little worlds, he actually gave a crap about something larger. What's wrong with that? Okay let me stop, I'm starting to not sound like the evil Republican we all know I am.
Incidentally, it is amusing though to see some people say "I told you so" as if there were more than a handful of documented cases of death by stingray in the last hundred years. Then again these are probably from people who don't really know what one is and just think "Oooh a stingray, sounds scary."
The show was mostly useless commentary, as usual. Of course. I did speak about the first ever Lifetime movie I watched and enjoyed, but it's on wife swapping and so deserves its own post.
Smartypants
asked in the chatroom if I would bang Angelina Jolie, which led to me trying to update my "Top 10 Women" list on air. I gave up though and said I would just post it on here after some thought. So here it is:
Updated Top 10 List of Women (L-R)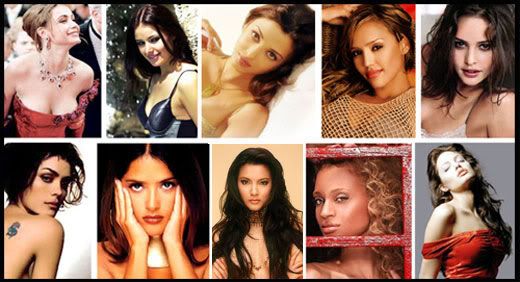 1.
Emmanuelle Beart
(French actress, Tom Cruise's lead co-star in
Mission Impossible
)
2.
Oxana Federova
(Miss Universe 2002 before she lost her crown)
3.
Aishwarya Raj
(Indian actress)
4. Jessica Alba
5.
Josie Maran
(Model, the first vampiress to die in
Van Helsing
)
6.
Shannyn Sossamon
(Heath Ledger's lead co-star in
A Knight's Tale
)
7. Salma Hayek
8.
Kelly Hu
(The Rock's lead co-star in
The Scorpion King
)
9.
Nik Pace
(Runner-up in Cycle 5 of
America's Next Top Model
)
10. Angelina Jolie
Honorable Mentions:
Rachel Weisz
,
Severine Ferrer
,
Daniella Alonso
, Keira Knightley (after a few cheeseburgers), Natalie Mendoza and
Vanessa Marcil
.
And yes, I do have a thing for brunettes with full, pouty lips. Although there is such a thing as too much collagen. Kwame made fun of me for not naming any black women at first, when I listed one Asian chick. I pointed out that I had also not named any Spanish women, but it wasn't enough to take me off the hot seat. He may have already sent a complaint letter to the NAACP. In my defense, I just don't think that the "ethnic" women on TV or in movies are as attractive as the ones I see on the street. Kelly Hu is the only Asian actress I think is attractive and she's been in what, two movies. Yet I see gorgeous Asian women in real life every day. Same thing with black women. Sorry, Gabrielle Union just doesn't do it for me. I know she does it for a jillion men but that's probably why I'm not a guy. Oh and also the whole don't-have-a-penis thing.
Salma Hayek is on the list based on her performance as Serendipity in
Dogma
, but do women who seem to have had surgery to make them look "less ethnic" count towards that racial check mark on my list? You know, how there's a difference between
Selena
Jennifer Lopez and
The Wedding Planner
Jennifer Lopez. And would
Halle Berry
(though she seems like the flakiest person to hit Hollywood and I hate the obligatory Academy Award-giving, she is hot) count towards the black check mark when she's half white and looks it? It's all so confusing, having to add this dimension of political correctness to the hotness list.
Of course, sometimes people aren't politically correct enough. Like the other day some guy called me a chink and I was so offended. I am a Chink-American dammit.