Book Six
Just finished
Harry Potter and the Half-Blood Prince
, picked it up at Barnes and Noble in Clifton at midnight. Geo rocks, he waited an hour and a half to pick up a wristband for me in the afternoon so I'd be one of the first to get the book. I was number 48 so I only had to wait a few minutes. When we left, they still had 650 people to give pre-orders to and another couple hundred walk-ins at least. Craziness.
Good book. Dragged a bit in the beginning but picked up pace. I think it had to be that way though, because so many things had to be explained. Worth the read but I liked books three through five better.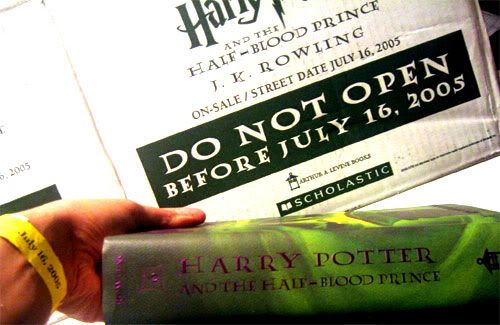 Okay my wrist looks weird here but other than that it's a neat pic right.
I won't talk about the plot here in depth but I do however think that the person who's gone may not actually be gone, the person who is bad may not actually be bad and that I've changed my mind on who would romantically be good for Harry. Here are my thoughts on Book Six for people who want to discuss the book, but keep in mind that there are obviously spoilers!
By the way, I got caught being a total nerd by Mary of the Book Blog. So I might have kept quiet about the fact that I attended the midnight release, but seeing her (and the picture she took as evidence) effectively removed all possibility of silence. Yeah right! You know I'm unrepentant about what a dork I am concerning all things Harry Potter, Star Wars, Lord of the Rings and comic books.

Oh and Geo wants me to let you all know that had to wait around TWO hours for my wristband, not one and a half. I thanked him very prettily but he shrugged it off and said if he hadn't, we wouldn't have left Barnes and Noble at 12:03 am we would have left it at 5 in the morning. Which I'm grateful for because thanks to HIS wristband I was done with the book by then.